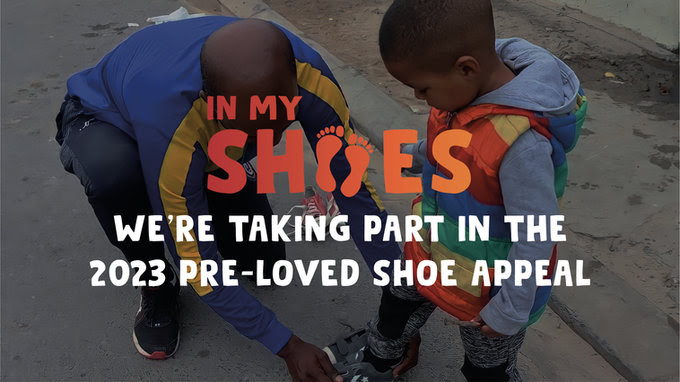 DSP is delighted to take part in the In My Shoes Charity Campaign this year. The goal of this charity is to collect good quality pre-loved sports shoes from across Ireland and the UK. These shoes are then shipped to countries within Africa where they are distributed to some of the most deserving kids in the townships.  The charity works with NGOs who use sports to get kids involved in education so their focus is on collecting sports shoes only.
WHY SHOES?
· A pair of shoes is often the difference between a hopeful or bleak future.  
· Because shoes are more than something that keep your feet safe and warm.   
· Like most countries, you need shoes to go to school in South Africa. Along with shoes being part of the school uniform, they also allow learners safety and provide a sense of self-esteem and dignity.
· Shoes are often the most difficult item to get in materially poor communities. 
HOW DO I DONATE?
This year's campaign runs from Monday April 17th – 28th. We are accepting shoes in all sizes, from toddler right up to adults. Simply bring your shoe donations to school and pop them in the collection bags in your classroom.
You just need to ensure that each pair of sports shoes you are donating are tied securely together by their laces or using a cable tie (making sure its tightened fully). The shoes have a long journey ahead of them and its really important they stay together .
Please remember:
General sneakers/trainers
Soccer/GAA/Rugby Boots
Not general purpose shoes
No holes/tears in shoes please
It's really important to make sure we only get the correct type and condition of the shoes we need, otherwise we will end up a huge number of shoes that are unsuitable, which will present significant environmental and logistical challenges.
CAN KIDS SEND A NOTE OR PICTURE WITH THEIR SHOES?
In previous campaigns some children have left notes for the children who will receive their shoes. It's really thoughtful and creates a genuine warmth from both sides. If your child would like to join in, once they have written their note or drawn a picture, please pop the note securely inside the shoes.
We suggest that if children want to include a note with their shoes, they should just talk about the sports they liked to play in the shoes they are donating – sport has power to transcend countries and circumstance.
IMPORTANT – children should never provide any personal information on the notes other than their first name – no second names, emails, phone numbers, social media details, addresses etc…
For more information about this charity and a list of FAQs visit FAQs | In My Shoes (inmyshoescharity.org)